Renegade Custom Wheels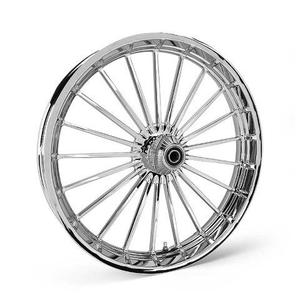 Hawg Halters Inc. proudly delivers USA made forged billet wheels from our new division, HHI / Renegade Custom Motorcycle Wheels.
HHI / Renegade Custom Motorcycle Wheels are available in sizes ranging from 16" to 32" and offered in brilliant Show Chrome, Gloss Black, Phantom Cut or Polished finishes. Matching design 11.5, 11.8, 13, and 18 inch Cog Drive / Floating Rotors, Pulleys, Sprockets, Air Cleaners, and Derby Covers are also available.
In addition, industry leading one-piece Trike wheels in matching designs are now available from HHI / Renegade Custom Motorcycle Wheels. These 18 x 7 inch wheels offer the Trike rider a new level of customization and finish.
Next, have a look at the exciting New Replica Wheel Program launched by HHI/Renegade to provide a complete series of 18, 21 & 23 x 5.5 inch front wide tire wheels in matching styles to your stock wheels. These wide tire applications also come in brilliant Show Chrome, Gloss Black and Phantom Cut finishes.
All wheels are sold by application and are assembled with proper hardware and ABS specific bearings as needed, all ready for installation. Wheel fitments include Harley-Davidson, Indian & Victory Touring, and select Yamaha and Honda GL 1800 models.
Wheels can be shipped with the latest tire options, mounted and balanced. We choose from the leading specialty tire suppliers to achieve the best wheel/tire combination.
Renegade Wheels Contact
sales@renegadewheels.com

RENEGADE WHEELS | 389 Lumpkin County Parkway, Dahlonega GA 30533 ph: Toll Free: (877) 442-5837
FOLLOW US ON INSTAGRAM!